Plays
Study materials and links about plays in English
This section of the site will include materials for both modern and classic dramas. For the present, I will focus on Shakespeare plays that are widely read in American schools.
How to Read Shakespeare's Plays
Shakespeare's plays, particularly Romeo and Juliet, Macbeth, and Hamlet, are perhaps the most widely read (and widely taught) texts in English. However, for contemporary readers, especially young readers, they present a number of difficulties. I wrote a detailed handout called "Reading Shakespeare: A Primer" to give students advice on how to make sense of Shakespeare's plays. Download a PDF version of the handout and get additional resources on my Shakespeare Primer webpage.
Shakespeare Resources
As the most revered writer in the history of English literature, Shakespeare naturally has an overwhelming number of websites devoted to his life and work. Here are some of the best online resources.
Scholarly Websites
Wikipedia's main Shakespeare page: A thoroughly cited overview of Shakespeare's life and career, with links to many other resources.
Folger Shakespeare Library: Home of the world's largest Shakespeare collection and an institution that promotes engagement with Shakespeare's works through research, publication of his works, teaching, and performance. See its Teach & Learn page for a collection of educational resources. It also has an online teacher community called Forsooth!.
The Complete Works of William Shakespeare (MIT): Simple, no-frills (i.e., no explanatory content whatsoever) public domain versions of all of Shakespeare's plays and poems, launched in 1993.
The Poetry Foundation's William Shakespeare page: A biography, articles and podcasts, and no-frills versions of most of Shakespeare's poems, including poetic excerpts from his plays.
Open Source Shakespeare: All of Shakespeare's plays and poems, with a number of advanced search and statistical tools to facilitate research on Shakespeare's language and characters; associated with George Mason University.
Shakespeare Online: A privately run website with a large collection of interesting articles and resources; features the full text of the plays and poems with extensive notes.
William Shakespeare: The Complete Works by Linda Alchin: A privately run website with the full text of the plays and poems (without notes), along with other resources about Shakespeare's life and works. Not as well presented as Shakespeare Online.
Vocabulary Resources
As Shakespeare's language is particularly troublesome for contemporary readers, here are some other websites with information on the unfamiliar vocabulary found in his plays:
A General Glossary to Shakespeare's Works: Very extensive Tufts University glossary of words in Shakespeare's plays, including citations of each instance of the word's use in Shakespeare's works.
Shakespeare Dictionary: A useful list with citations and examples of each word's usage; also features an amusing Shakespearean insults generator.
William Shakespeare Elizabethan Dictionary: Fairly extensive and useful list presented very simply.
Shakespearean Vocabulary: Important words commonly used in Shakespeare's plays (Quizlet list).
Language of Shakespeare: A list of other useful links.
Romeo and Juliet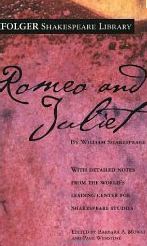 Romeo and Juliet is one of the most widely read of Shakespeare's plays as well as one of the first plays read in many high school English curricula. As such it often sets the tone for students' attitude toward Shakespeare, so ensuring a positive reading and learning experience is critical. I recommend the Folger edition of the play; Folger's editions of Shakespeare's works seem to be generally well edited, with a wealth of useful information, and they are used by a lot of American schools. I also highly recommend, as with all plays but especially Shakespeare's, watching a good adaptation like the acclaimed film version by Franco Zeffirelli—what may be difficult for students to appreciate on the page often comes to life on the stage or screen.
I have written a few materials to help students process Romeo and Juliet:
Themes and Motifs in Romeo and Juliet (PDF)
Romeo and Juliet Act I Review Exercise (PDF)
Shakespeare Excerpts
When my students read Shakespeare plays for school, their teachers usually focus primarily on the overall meaning of each play: elements such as plot, theme, and character. To augment my students' schoolwork and help them develop the tools necessary for a closer reading of the play, I like to give them short excerpts with very specific questions about elements such as vocabulary in context, the meanings of specific sentences, rhetorical devices, and Shakespearean syntax and grammar. I also provide questions for broader discussion and writing that facilitate reflection on how these details and devices contribute to the larger meaning of the work. These kinds of questions and exercises serve as an effective foundation for a far more nuanced reading experience and a deeper appreciation for Shakespeare. Here are a few examples of the excerpts I use. Teachers, if you find these materials useful, please feel free to adapt them to your own needs.
Excerpt I from Macbeth (PDF)
Excerpt I from Othello (PDF)